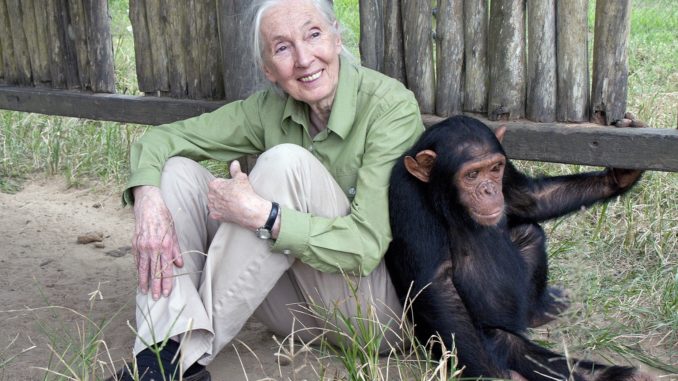 War for the Planet of the Apes–the third movie in the Planet of the Apes series–hits theaters July 14, 2017. While the movie itself revolves around a dystopian future where great apes become sentient and take over the world, the reality for apes in the world today is more perilous. 20th Century Fox is teaming up with legendary primatologist and ape evangelist Jane Goodall and the Jane Goodall Institute to aid in the rehabilitation of chimpanzees in honor of the movie.
A joint statement from 20th Century Fox and the Jane Goodall Institute announced, "In honor of the upcoming release of War for the Planet of the Apes, 20th Century Fox has partnered with the Jane Goodall Institute to provide care for rescued chimpanzees, many of whom are victims of the illegal commercial bushmeat and pet trades. Housed and cared for on three forested island sanctuary sites and a mainland sanctuary site at the Institute's Tchimpounga Chimpanzee Rehabilitation Center in Republic of Congo, nearly 150 chimpanzees will benefit from this partnership."
The islands where these chimpanzees now live provide a partial return to the kind of habitat from which they were originally stolen, and an opportunity to build strong, dynamic social communities together in the wild–as chimpanzees naturally do.
"It is an honor and a privilege to partner with the Jane Goodall Institute in providing needed care for our closest living animal relatives," said the film's director Matt Reeves in the statement. "Over the course of filming Caesar's cinematic journey, it's fascinated me to learn so much about apes and chimpanzees, these amazing sentient animals who organize, strategize and even socialize in much the same way as humans. Our hope is this reimagined Apes franchise will spark a fresh awareness, compassion and respect for these majestic species for generations to come."
As a token of gratitude for this partnership, the Institute has named the housing on Tchindzoulou island, the largest of the three island sanctuary sites, after War for the Planet of the Apes' hero chimpanzee, Caesar.