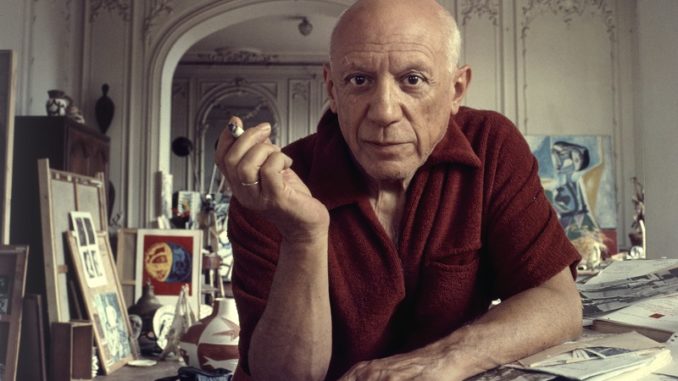 "I begin with an idea, and then it becomes something else."
~ Pablo Picasso
When we think of the word "genius" we generally associate it with intelligence. However, the word has broader application because there are all types of geniuses–scientific geniuses, athletic geniuses, musical geniuses, and more. For season 2 of the show 'Genius', Nat Geo is tackling artistic genius and examining the life and career of Pablo Picasso.
I already learned something about Picasso. Apparently, his full name is Pablo Diego Jose Francisco de Paula Juan Nepomuceno Maria de los Remedios Cipriano de la Santisima Trinidad Ruiz y Picasso.
Last night was the finale of the first season of Genius on Nat Geo. Genius was watched by more than 45 million people around the world, and was the best performing new series launch in the history of National Geographic. This morning, Ron Howard and Nat Geo officially announced season 2 of Genius, and revealed that the second season will focus on infamous and controversial artist Pablo Picasso.

The first season of Genius told the story of Albert Einstein. Based on Walter Isaacson's biography, "Einstein: His Life and Universe". Genius was the first fully scripted series ever produced by Nat Geo, and its success is a testament to the strength and reputation of the Nat Geo brand. Nat Geo has reinvented itself in the last couple years with shows like Mars, and Genius, and it is building on that momentum with new concepts, as well as second seasons of both of those shows.

With Einstein, Genius made some bold choices in terms of what parts of the story to tell and how to tell them. The beauty of Genius is that it didn't just dramatize the myths and legends we already know about Einstein. It explored his triumphs and tragedies, and delved into his flaws as well as his achievements—giving the audience a more comprehensive understanding of Albert Einstein the man, rather than just Albert Einstein the iconic physicist.

When asked about some of the decisions to depict Einstein's infidelity, Ken Biller, showrunner, executive producer and writer for the show, pointed out that the audience doesn't want to just watch Einstein standing at a blackboard for 10 hours. He explained that Einstein was an intensely sexual individual, and that he embraced some unorthodox views on marriage and sexuality. The goal of the series was to share the whole person, and move beyond the myth that surrounds him.

When I spoke with Brian Grazer about the first season of Genius, I noted that there is an opportunity here. Because it was about Einstein, it would be easy to say that the title referred simply to Einstein and his brilliance and leave it as a mini-series dedicated to him. However, there are all kinds of geniuses that could also benefit from this sort of detailed examination—a series that is both entertaining and educational. I suggested at the time, "They could continue to do additional series of Genius that focus on other famous scientists like Stephen Hawking, or expand the scope to include musical genius like Prince, or athletic genius like Michael Jordan."

A number of candidates were considered for season 2. Biller explained that just about any man or woman you can think of was part of the discussion at one time or another. He declined to elaborate on specifically who else was considered or who the 'runner ups' were, because he wants to maintain the element of surprise for future seasons. Ultimately, though, the team decided on Pablo Picasso.
Read the full story on Forbes: Pablo Picasso Will Be The Focus Of 'Genius' Season 2, Nat Geo Reveals.