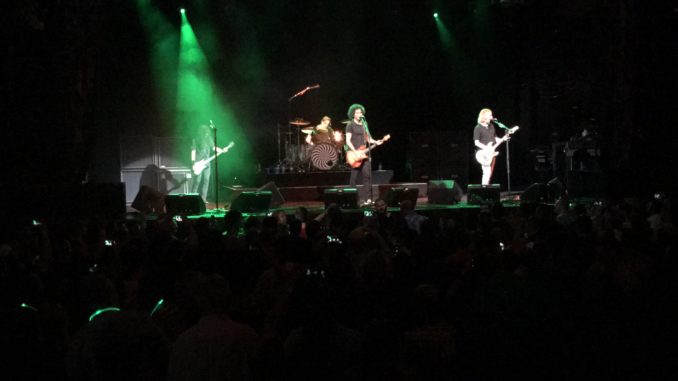 I remember Alice In Chains from the halcyon days of Grunge Rock in the 90's. While the band never achieved the level of fame and notoriety of acts like Nirvana and Pearl Jam, Alice In Chains sold more than 20 million albums. Their sophomore album, Dirt, was released in 1992 and eventually achieved quadruple platinum status thanks to hits like 'Rooster' and 'Would?'.
Every once in awhile I still play those songs, but I have to admit I hadn't given much thought to Alice In Chains in years. I remember when Layne Staley–co-founder and lead vocalist for the band–tragically died from substance abuse in 2002, and I wasn't even really aware the band was still together in any meaningful way.
While attending Black Hat 2016 in Las Vegas, though, I had the unique opportunity to see Alice In Chains perform.
Cylance
–a sponsor of PopSpective's sister site,
TechSpective
–hosted a private party at The House of Blues in Mandalay Bay, featuring a performance by Alice in Chains. Co-founder and lead guitarist Jerry Cantrell, bassist Mike Inez, and drummer Sean Kinney still form the core of the group, with William DuVall replacing Staley on lead vocals.
DuVall is phenomenal. He brings his own style and energy to the band, but he is also true to Alice In Chains history and the memory of Layne Staley. When performing those early Alice In Chains hits, you almost can't even tell DuVall isn't the original singer. While watching Alice In Chains perform, I could close my eyes and essentially not be able to detect the difference between DuVall and Staley on Alice In Chains hits.
After watching the band perform, I did some research and discovered that the band has been active and there are recent albums I wasn't aware of. With DuVall at the mic, the band released Black Gives Way to Blue in 2009, and then The Devil Put Dinosaurs Here in 2013. I don't know if they're actively working on another studio album, but I plan to check out these last two and look forward to new music from these guys.
If you loved Alice In Chains in the 90s, but forgot they're still out there, I recommend you check out these recent albums. If you have an opportunity to see the group perform live, you should definitely do it. These guys can rock and put on an awesome show.