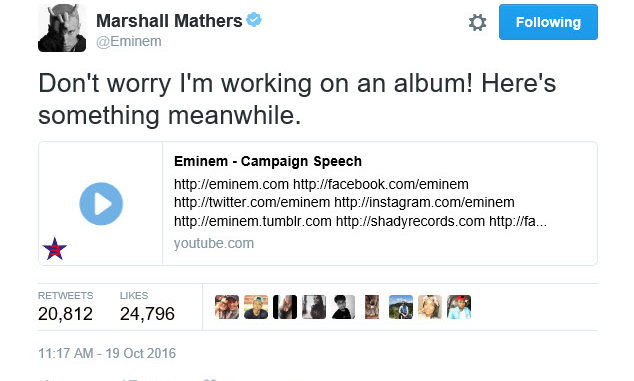 Nine times out of ten if I am in the car I have Eminem playing on shuffle about 100 decibels louder than is probably healthy for my ears. Part of it is my loyalty to Detroit and my support for home grown talent–but mostly it's just because Marshall Mathers is a lyrical genius and a rap phenomenon and I am a huge fan.
It's been a while since Eminem's last album.
The Marshall Mathers LP 2
came out in late 2013. There was a various artists compilation album in 2014–
Shady XV
–which features a lot of Eminem as well, but I am ready for some new stuff from Eminem himself.
Eminem tweeted today to assure fans an album is in the works. In the meantime, he released a mostly a capella teaser–a nearly 8-minute long epic rap called Campaign Speech that slams Donald Trump.
Here you go (Warning–the song is NSFW):
I need to start working on trying to get in touch with Eminem or his people. I would love to interview him myself when the new album hits.