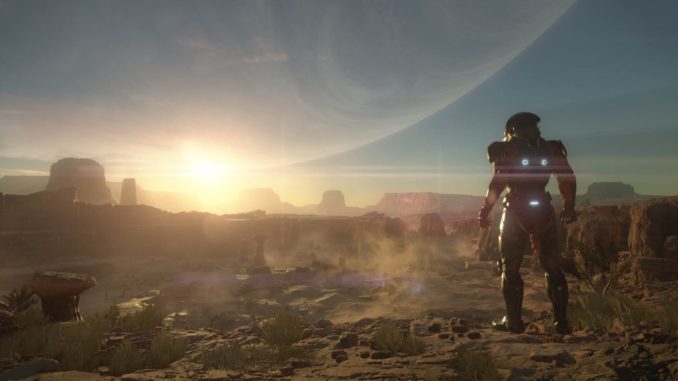 If you're a fan of Mass Effect like I am, you've been waiting for years to get a look at the next iteration in the franchise, Mass Effect: Andromeda. At EA's event the day before E3, many were expecting to see a traditional game announcement with a trailer and some looks at in-depth gameplay.
At last year's E3, we got a pretty good teaser trailer, with Johnny Cash's "Ghost Riders in the Sky" and a look at Mass Effect's "target gameplay experience." Then on N7 Day (Nov. 7) we got another teaser voiced by Commander Shepard, sending us on our way to Andromeda. Those reveals, to some of us at least, logically led to this E3 (the last one before the actual game release) being the grand reveal of Mass Effect: Andromeda. Instead, we got some behind the scenes looks, development samples, and very little else. Yes, we did get to see some Mako action, marvel at the graphics rendering of the Frostbite 3 engine, and met our new female (by default) protagonist. But that was it. "KThnxbai! See you in the fall!"
Then, in a GameSpot interview with Aaron Flynn, the BioWare GM seemed to agree that they certainly could have provided more information.
[GameSpot] "[This] close to release, it's a bit worrying there's no deep dive on how the game plays."
[Flynn] "Oh okay, we could absolutely go into all that detail now. I have no concerns with that stuff."
So what gives? EA has stated that one of its long-term business strategies is to build long-term engagement with it's consumer base. That's evident in how shamelessly they flogged FIFA2017 and the rest of the EA [sport]-ball catalog.
I will applaud BioWare for not delivering solely based on EA's deadlines and its desire to get it right, especially given the trauma suffered by just about everyone with the ME3 ending. But if we're looking for real world object lessons, BioWare might take a page from the doldrums that engulfed Bungie's "Destiny" earlier this year when not only did Bungie not provide any content updates, but really shut out any kind of communications with the fan base (skill-based matchmaking, anyone?).
I'm already hearing from some Mass Effect fans that they are feeling a little shut out by BioWare's lack of anything substantive about the new title.
BioWare has still only said that we'll see more "in the fall."